Introducing The QR Dog Tag: Your Pet's Digital Safety Net

Losing a pet can be a heart-wrenching experience, but with our innovative QR Dog Tag, you can significantly improve the chances of a happy reunion. This high-tech pet accessory combines the convenience of a traditional ID tag with cutting-edge technology, making it easier than ever to keep your furry friend safe.

Key Features:
Quick Access to Information: Our QR Dog Tag features a unique QR code that, when scanned, instantly connects anyone who finds your lost pet to a digital profile containing all essential information. This includes your pet's name, your contact details, medical history, and even a current photo.
User-Friendly: Scanning a QR code is as simple as using a smartphone, and almost anyone can do it. This universal accessibility means that anyone who finds your pet can easily access the necessary information, ensuring a fast and hassle-free reunion.
Customizable: The digital profile linked to the QR code is entirely customizable. You can add or update information as needed, ensuring that your pet's details are always accurate and up-to-date. Allowing you to add as many contacts as you wish!

Why Choose Our QR Dog Tag?

Peace of Mind: With our QR Dog Tag, you can rest easy, knowing that you've taken an extra step to safeguard your pet and increase the chances of a safe return in case they go missing.
Convenience: No need to engrave or update physical tags repeatedly. Our digital profile can be updated in real-time, ensuring that your pet's information is always accurate.
Quality and Durability: Our QR Dog Tag is built to withstand the rigors of outdoor adventures. It's made from high-quality materials to ensure it lasts.
Simple Setup: Setting up your pet's digital profile is straightforward and user-friendly. You can have your QR Dog Tag ready to go in just a few minutes.


Don't leave your pet's safety to chance. Upgrade to the Chippit QR Dog Tag and be prepared for any unforeseen circumstances. Experience the peace of mind that comes with knowing you've taken every possible measure to keep your furry friend safe and sound.

Order your QR Dog Tag today and invest in your pet's well-being. After all, a safe pet is a happy pet, and a happy pet means a happy owner.
Your Pet Profile
Each Chippit Tag connects to an online pet profile which contains all of the information below:
Unlimited Contact Information:
You can add unlimited phone numbers and addresses to your pet profile.
Top Page Info: Add your pet's Health and Behavior Information in the bio at the top to show first.
Vet Information: If someone finds your missing pet, they may be having a medical emergency. Adding your vet's contact information can save your pet's life.
Medical Records: Store your pet's records such as rabies tag number and local IDs.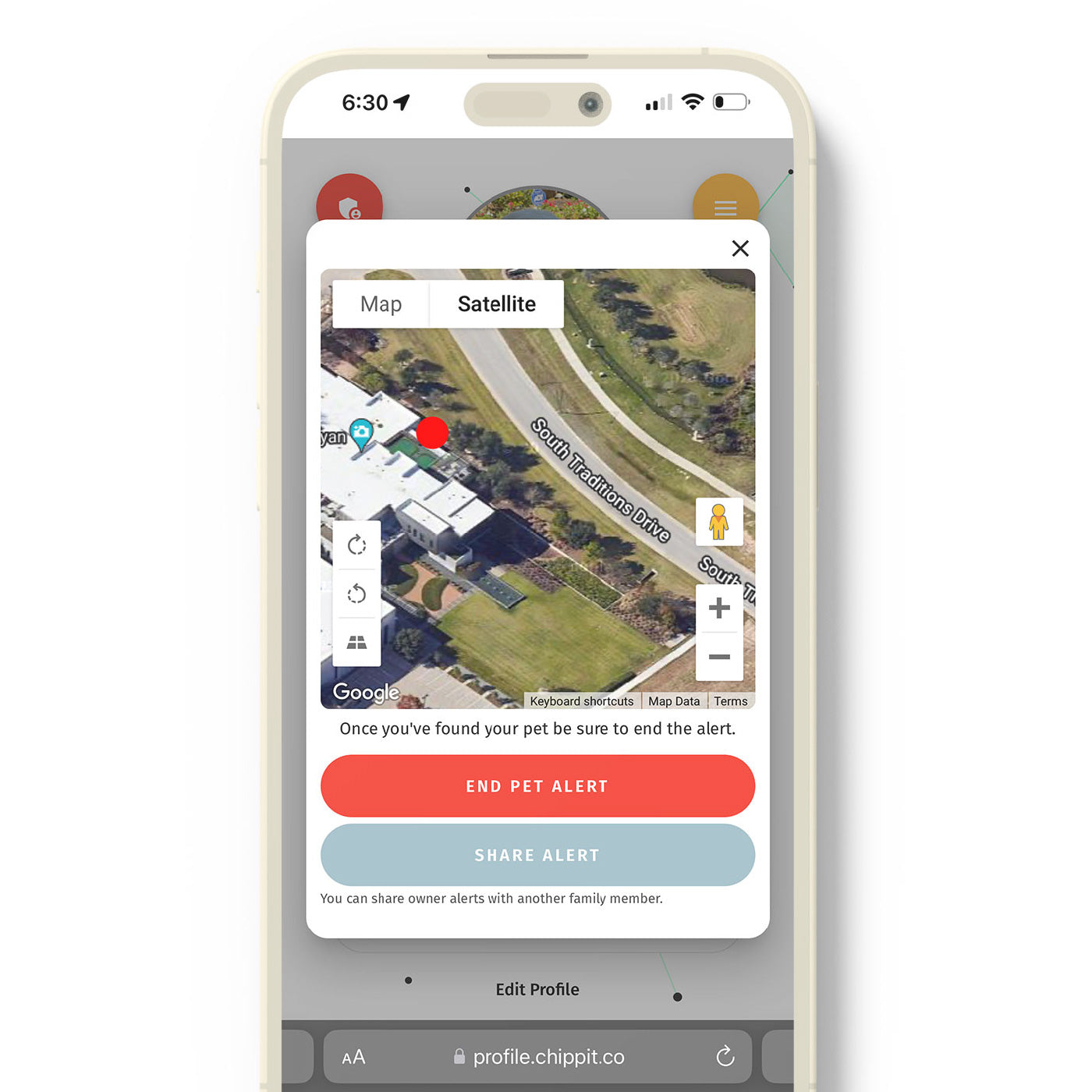 GPS Alerts
When someone scans your pet's Chippit, you will receive a text message notification with your pet's exact GPS coordinates.